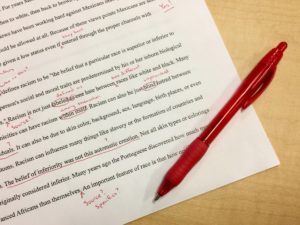 Everyone can use a second set of eyes looking over his or her written work. If you want to make a great first impression on your potential customers or clients, it's best to have someone else go over your work. Whether you have a company report or a blog, I can provide the fine-toothed comb that will catch the errors you don't want to have floating out there. I offer a variety of editing services to meet a variety of needs.
The Editing Services I Offer
Typing and/or Formatting: Let me type your handwritten notes or put your document into the format you need.
Editorial Analysis: I will read over your work and give you feedback as to what you need to do to call it "done." I will also give you honest feedback as to its merits and/or where your writing could be strengthened.
Proofreading: Be sure that your work is free from typos and glaring spelling or grammatical errors.
Copy Editing: I check your writing for sentence structure, spelling, and punctuation. I also ensure your manuscript is consistent, clear, and concise.
Content Editing: For fiction, I look at the various elements of your work to ensure it's consistent. For non-fiction, I ensure your work is consistent, fact-checked, and coherent.
Substantive or Developmental Editing: I read your work once and offer initial comments, then we work back and forth through comments and line editing to reach your goals. Developmental editing is more akin to editorial coaching. I will be your cheerleader as we work together to ensure a satisfactory final product. This service includes copy editing and proofreading at the end of the project.
Fact Checking: I check to be sure all factual information is accurate and accurately cited.
Bibliographical Editing: I ensure that every source you used has been accounted for and that your footnotes, end notes, and bibliography are properly formatted (APA, MLA, CMS, etc.).
If you have a project you've been working on that you'd like to run past a professional editor, don't hesitate. Contact me today to take advantage of the editing services I offer. I will ask for a small sample of your writing at the end of our initial FREE consultation so that I can provide you with an accurate editing quote.