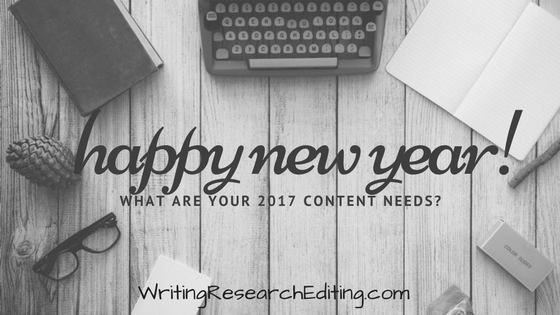 Happy New Year! I wish everyone a happy and healthy 2017.  I'm looking forward to finishing my roll-out of my website's new design, and I have a lot to share on the blog in the coming months.
What needs do you have? Whether you need someone to help with content for your website, someone to manage your blog and its posts, or someone to edit the book you wrote during NaNoWriMo2016, my assistance is only an email away. I can create sales letters and brochures for your company, write a press release for distribution through the appropriate channels, or provide you with background information for your new project.
I also offer social media management services, so if you want to get on top of Facebook, Twitter, Pinterest, G+ and the other platforms this year, and gain greater brand recognition, let's talk.
No matter what your writing, research, or editing-related resolutions are this year, I offer solutions tailored to your needs.
Contact me today to get started on your project. Mention this blog post, and receive a 17% discount off your quote when we begin work on your project in the month of January. (Offer valid for new clients only.)