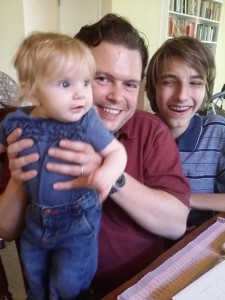 I've been busy lately. In addition to putting on an epic Easter  for my family and caring for an awesome six-month old (including when she had her bout with bronchitis), I've been taking care of a concussed teenager. He fell while doing warm up exercises in his P.E. class, broke his nose, and got a pretty nasty concussion. It's amazing how fragile the brain is. I've been fighting the virus that won't go away – in the summer, I know! It seems like we've all finally recovered from our various ailments. I've been working on a variety of projects, including:
Content writing for a variety of websites including dental offices, law firms, construction companies, and restaurants
Blog posts, social media, and curation for Rock The Deadline (A great content marketing and curation tool)
My blog, Wining Wife, including a recent post on cleaning a wrecked kitchen
My blog, Activism My Way, including a recent post on what can and cannot be recycled
Editing work on a fictional account of the Trojan War
Editing and updating the book I co-authored with Murali Chemuturi. The book is being republished by Re.ad Publishing. Keep your eyes out for updates about its release date.
Working with the charity, J.B. Dondolo as Fundraising Coordinator. I've been putting together grant applications and working on organizing a 5K to raise money for our first project, Hospital Hope. We also have an account with Fundraising.com, so if you need a magazine subscription, cookie dough, or gift ideas, you'll want to head over to our page. A little bit helps a lot!
Project plans for three blogs and a magazine
Outlining a complete secular homeschooling curriculum that will cover Preschool through 12th grade
Editing abstracts, articles, and book reviews for academic clients
Working as a curator of content for eFiction Magazine and sister magazines
As you can see I've been keeping busy with a variety of projects here! I'm happy to help new clients, so if you need writing or editing done by a freelancer, don't hesitate to contact me. We will discuss your needs.