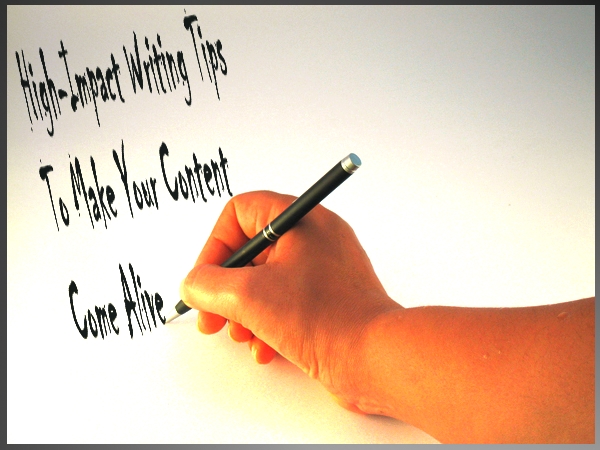 Have you ever felt like you need to create writing that makes more of an impression on your readers? Over at ProBlogger, a guest writer shared 30 High-Impact Ways to Level Up Your Writing. It's a great article with a lot of good tips, and it's worth checking out for anyone who wants to create high-impact writing that gets more results.
My Favorite High-Impact Writing Tips
One of the best tips in the post is to visualize that you're at a coffee shop with your reader. You're sitting there, explaining the topic to your pal in a way he or she can relate to. You smile, you sip your coffee, and when things are really important, you add emphasis with your voice and your gesture. You can do the same thing in your writing; create bullet points to emphasize a list, italicize words to stress them, and add the odd anecdote or two to keep your reader engaged.
A second great tip shared in the article is the suggestion to print your written work out. By doing so, and reading it out loud, you will likely catch more mistakes than you would otherwise notice on the screen. Before I send my written work out to my clients, I always print it out for one last once-over. This allows me to be sure that the content I've provided is free from errors and that the writing flows well.
Consider Hiring an Editor
The post's author also suggests hiring an editor to glance through your work. This is a wonderful idea, as an editor will catch mistakes that you didn't catch. If you're writing an article for publication, a brochure, or a book, this will be especially important. Yes, I said brochure. Today, I saw a grammatical error in a catalog ("mom's" was printed instead of "moms"). An editor's eye for detail would have helped to prevent this error, thus presenting a more professional appearance.
There are also some great notes in the comments section about making sure you fill in the blanks for your reader. This is important to consider when you're aiming for high-impact writing. You can't assume your reader will know what you're talking about. In fact, an editor can help you ensure that you don't leave your readers confused in places where you think something is obvious, but where it really isn't obvious. The article and comments are definitely worth taking a look at if you want to supercharge your written projects with high-impact writing.
What is your favorite tip from the article? Share your thoughts in the comments below.
For help with editing your blog posts, brochure, article, book or other written content, please contact me at rbowen@writingresearchediting.com today.
Related articles