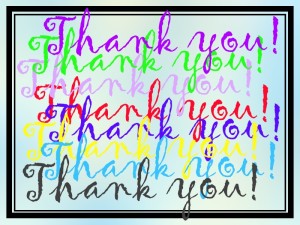 Sadly, as we turn more to social networks, one of the most overlook activities is the handwriting of a thank-you note or letter.  Here is a list of times when a thank you letter is appropriate:
After an Interview
After you have received any gift
After you have enjoyed a meal at someone's home
When someone has done you a favor
After you have stayed at someone's home on a trip
When you receive a new account from a client
When someone has given you support, written a letter on your behalf, etc.
The first thing you want to do when writing a letter of thanks is be sincere.  With gifts, do not gush over something you do not like.  People can tell that you are lying with your words – and overzealous language often gives this away. Instead, thank them for their generosity or their thoughtfulness, and find one positive thing to say. If you stayed at their home for a vacation, mention something you did together that you really enjoyed.  If someone has given you support, explain how much it meant to you.
It is vital to be grateful for the things we receive in life from others – both material and emotional.  Take time to show your gratitude by writing a meaningful and heartfelt thank you to those who are special to you.